It's the first Saturday of February! Already!  This morning I'm happy to be linking up with Ultimate Coffee Date for the first time! It is hosted by
Coco
, 
Lynda
 and 
Deborah
. This is such a fun concept. Thank you ladies! So, let's grab a coffee and catch up!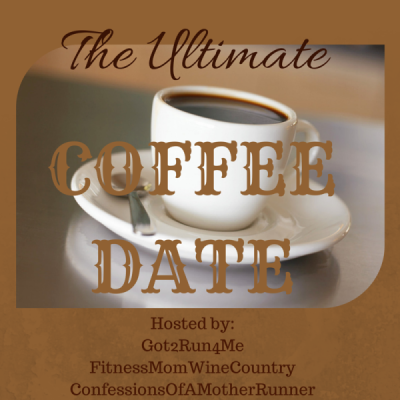 If we were having coffee I'd tell you that I am excited to get a chance to tell you what's going on that might not be normally picked up in my blog posts! We mostly talk a lot about running and workouts, our weekends, and other family or motivational topics.  But today, I get to fill you in on random things that have been on my mind or that I have upcoming to look forward to.
If we were having coffee I'd tell you that I understand that snow is a part of winter. But COME ON! This is kind of ridiculous.  I think the average snow fall for the season in the Boston area is around 43". We reached 47" in 10 days this past week (and counting). The sidewalks that have been shoveled are comical. They look like they are part of a maze. Soon they might actually look like tunnels!

If we were having coffee I'd tell you that I love running 5K races, especially when people I know are running with me.  I am participating in an upcoming St. Patrick's Day race and I am floored by the amount of people who have accepted my invitation to sign up and join with me. I know that there is the lure of free beer at the end, but the company will be amazing and I absolutely cannot wait. I love that I have something fun to look forward to. I can't wait to tell you all about in April's coffee talk!
If we were having coffee I'd tell you that I have joined the 2,015 in 2015 with Kerry and Ben.

We are called Ben and the Uptite Mamas.  Kerry wrote a post about it recently, but I wanted to tell you about it too.  I have never really set up a mileage goal for myself (except with I was training for the half marathons). This year I decided that I wanted to surpass 2014 yearly miles. So to do that, I set up a little schedule for myself.  My goal is only 660 miles, but it works out really well to fit into the requirements for the 2,015 in 2015, especially because Ben is trying for 2,015 kilometers.  The little extra mileage leftover is there for Kerry to get her pregnant self moving and then motivation for after the baby is born.  Look at all of these accomplishments all wrapped into one goal!
If we were having coffee I'd tell you that dance competition season is upon us.  Kayley is scheduled to dance in 3 performances in 3 competitions this year.  In addition, we have the Spring Showcase to get ready for.  Essentially that is just a mini recital for the girls to get used to their performances on stage in front of friends and family before they hit the judges. And then there is the end of year recital. This is when my hidden "Dance Mom" persona comes out.  And by that I mean – I am the one carting the kid, the costumes, the shoes and the makeup all over Massachusetts.  This year I broke down and bought a specialized suitcase ($$$).  It is a rolling bag with collapsible garment rack.

(Not all of the costumes have come in yet.) These competitions are in high schools mostly, so we are usually just stuck in a classroom somewhere. There is no place to hang the costumes, which leads to a giant disorganized mess.  Fingers crossed that the money I spent will be well worth it to keep my sanity and belongings in place.
And this year she has to wear fake eyelashes. We've been practicing.

If we were having coffee together, what would you tell me?